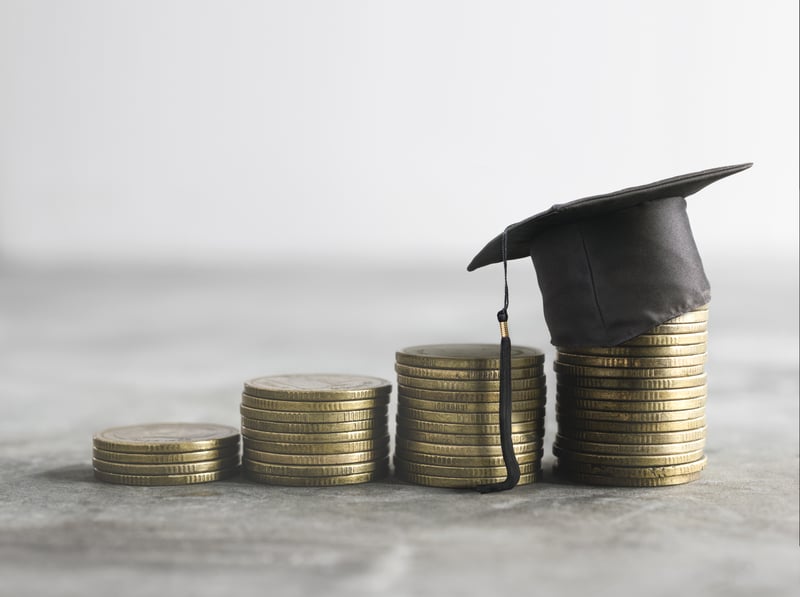 One of the biggest barriers students face when deciding whether to pursue their academic career goals is financial.
Here at K-State Olathe, we understand that your college career is an investment, and we want to help support you as you navigate the world of scholarships.
Students who attend K-State in the Greater Kansas City area have the opportunity to apply for a variety of funding options to support them during their academic journeys.
"We know that the cost of college can be a barrier for students," said Kimberly Voight, director of student services at K-State Olathe. "This is why we take as many steps as possible to minimize that barrier. We work hard to ensure that our students are aware of what scholarships they may qualify for and how they can apply, and we work with them to guide them through that application process."
K-State Olathe scholarship opportunities
Students pursuing either their undergraduate or graduate degrees are eligible to apply for scholarships. There are a variety of scholarship opportunities available depending on the area of study, student's geographical location and whether the learner is pursuing a graduate degree.
Here's what you need to know.
Scholarships for Johnson County residents
If you're in Johnson County, you have a variety of scholarship options available. K-State Olathe offers scholarships sponsored by the Johnson County Education and Research Triangle (JCERT). Scholarship awards are based on availability of funds. Applicants may be awarded up to $5,000 for the duration of their program of study, provided they meet minimum academic and enrollment requirements. Scholarship amounts vary depending on fund availability, merit and need. Apply by Dec. 1 in order to be considered for a spring scholarship.
Scholarships for new undergraduate students
New students who are admitted to the personal financial planning or hospitality management bachelor's degree programs at K-State Olathe may be eligible for a Clay Blair Family Scholarship Award of up to $4,000. Funds will be distributed over the first several semesters of study. If you've been thinking about pursuing your bachelor's degree in personal financial planning so you can help others manage their wealth or you'd like to complete your bachelor's degree in hospitality management, a Clay Blair scholarship could help support you on your journey.
Scholarships for undergraduate transfer students
Undergraduate students who transfer to K-State Olathe are eligible for transfer student scholarship awards. Scholarships are either $3,000 over three years or $6,000 over three years, depending on GPA. Feb. 1 is the priority date for the fall semester for future transfer students, while Dec. 1 is the priority date for the spring semester, so it's important to apply as early as possible if you'd like to be considered for one of these scholarships.
Scholarships for new Hospitality Management students
For students entering the hospitality management bachelor's degree completion program, K-State Olathe offers scholarships that are sponsored by the Greater Kansas City Restaurant Association, or GKCRA, and K-State Olathe. Scholarship awards are based on availability of funds. Applicants may be awarded up to $2,000 for their degree completion program, provided they are in good standing and meet the enrollment requirements. Scholarships will be distributed in four $500 awards for up to four semesters for a total of $2,000 per student. Scholarship amounts vary depending on fund availability, merit and need.
Scholarships for Urban Food Systems students
Graduate students in the urban food systems master's degree program may be eligible for the Daniel C. and Kathy Richardson Graduate Student Support for Agriculture, Food and Related Disciplines Scholarship. Eligible applicants will be awarded $1,275 for 2023-2024 school year. Learners who study urban foods systems will have the chance to discover ways to support urban farming and study horticulture.
What else does K-State Olathe do to help?
In addition to offering a wide variety of scholarships to our students, we also offer you the opportunity to participate in a tuition installment payment plan. This enables you to break up your payments throughout the course of the semester, so you don't have to pay for everything up front.
We want to see each of our students succeed, so if you aren't sure whether you're eligible for financial aid or how to get started, make sure to reach out to the student services team at K-State Olathe so we can help you get connected.
What scholarships are you eligible for?
We offer a variety of scholarships designed to help support your academic journey. Explore our current offerings and be sure to apply before Dec. 1 for spring awards.