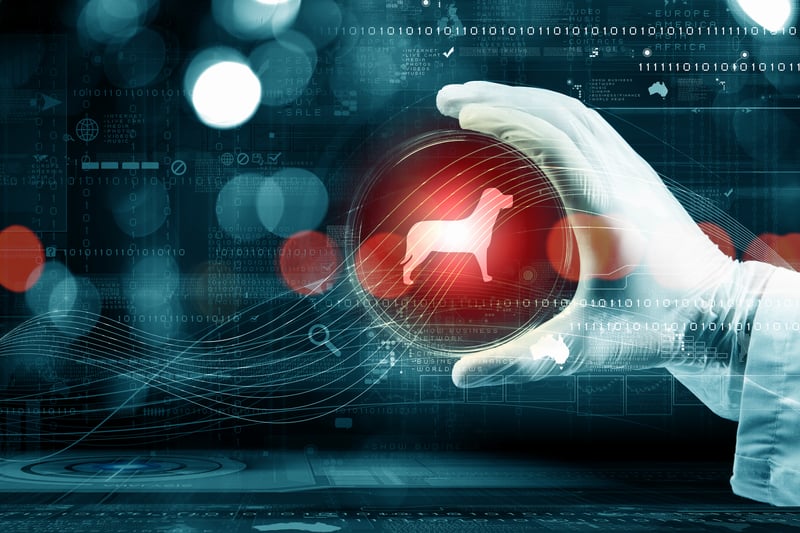 Have you been thinking about pursuing a career in animal health and want to know if it's right for you?
Douglas Shane, Ph.D., D.V.M., is a teaching assistant professor of animal health at Kansas State University's Olathe campus. He instructs several graduate-level courses and serves as the major professor or as a supervisory committee member to graduate students in animal health degree and certificate programs and tracks at the Olathe campus.
Shane also designs academic courses and professional development programming tailored to Greater Kansas City's robust animal health industry.
We sat down with Shane to discuss the field of animal health, how it's changing and what prospective students can expect when they choose to pursue a career in animal health.
What drew you to animal health? Did you always know this was a field you wanted to be involved in?
I always wanted to have an impact on protein production. When I was in high school, I got introduced to agriculture when we moved from suburban Overland Park to the more rural community of Louisburg, Kansas. I got involved in agriculture education and Future Farmers of America, which is how I developed a love and passion for agriculture. I always had a love of biology and science, and as I got older, that transitioned to protein production and animal health.
Back then, I felt the best way to pursue a career in animal health would be to become a veterinarian, so that's the path that I followed. I went to veterinary school and then chose to add my Ph.D. program after I had become more exposed to the research, industry and production consulting side of veterinary medicine. My mindset shifted from, "How do I work as a private practitioner at the local level?" to "How do I broaden my overall impact on animal health and welfare?"
What classes do you teach at K-State Olathe and what are some things students can learn when they study with you?
I'm involved in several of our animal health regulatory affairs courses that are taught as part of our Animal Health Regulatory Affairs graduate certificate program. I'm the instructor for our introductory course, which covers all three regulatory agencies that we work with in animal health — the Food and Drug Administration, the United States Department of Agriculture and the United States Environmental Protection Agency. I also teach our advanced FDA regulatory course, as well as our post-approval stewardship course, which covers what happens after an animal health product is approved.
We've also started developing and offering courses related to data analytics and insights in animal health. This fall I'm offering a course called Introduction to Systems and Data in Animal Health. Through that class, we're trying to give students a holistic understanding of the systems in which animals are raised and the data utilized to derive insight in that system regardless of the student's background.
You have an AI professional development event coming up. What can you tell us about that?
Our goal with this workshop is to create a common understanding of AI and animal health – what does that mean? What is AI? What is it not? We're plan to talk about what we're really trying to do with AI and data-driven technology, which is to develop tools to get insight to drive action. The way I've found myself communicating with people is that when we talk about ag tech, digital tech, AI – we're really all talking about data insight technology.
We're going to create a level playing field of what AI is and what we're trying to achieve. We'll also have some great experts talk about the creation of new data insight tools and what things need to be practically considered when inventing those tools. What do you need to think about from a technical perspective? What about a scientific development perspective?
We'll also talk about some AI tech and why it's failed. We'll learn about products that were not commercially successful and analyze why that happened. We'll also talk about the future and what comes next for AI. We want to evaluate what we can expect regarding the regulation of these products, where that might be shifting in the future and where we might use these technologies to support the development of a regulated products like new animal drugs.
Basically, we want to create a common understanding of what AI is and what it means.
What students should pursue a career in animal health?
Anybody who cares about animals is a great candidate. A lot of the times, people think , "I really like animals, so I want to work with animals." That's what attracts a many people to veterinary medicine, a love of animals. We do not always do a good job of helping people understand there are actually many ways to have a positive impact on animals. Being involved in the animal health industry is one of them.
You find that commonality among almost anybody who works in the animal health industry – everyone is in this industry for the animals. That underlying passion and interest in animals is a cohesive bond of the industry, which is really cool. Maybe a person didn't have that passion at first. Maybe they were a salesman in some other industry and then, they take a position with an animal health company and get the bug. They became passionate about what the industry is trying to achieve — enhanced animal health and welfare. Once you find that passion, you become part of the animal health family, and you are hooked. It's a great industry to get involved in.
You can take your skillset, whatever it is, and you can deploy it into the industry. So maybe you're a great marketer, but you're also really passionate about animals. Well, guess what? We need a lot of really talented marketers in the animal health industry. Maybe you're a chemist, but you still really like animals. Well, why not take that chemistry skillset and formulate new animal drugs? Having an industry that is based on a unifying passion and mission is just so unique and wonderful to be a part of.
Douglas Shane, Ph.D., D.V.M. is a teaching assistant professor of animal health at Kansas State University's Olathe campus and will be presenting at Artificial Intelligence in Animal Health: What is it and What Does the Future Hold?
Is animal health right for you?
K-State Olathe offers a variety of professional development and degree options designed to help you reach your goals. If you're ready to learn more about animal health, we'd love to talk with you about your options.