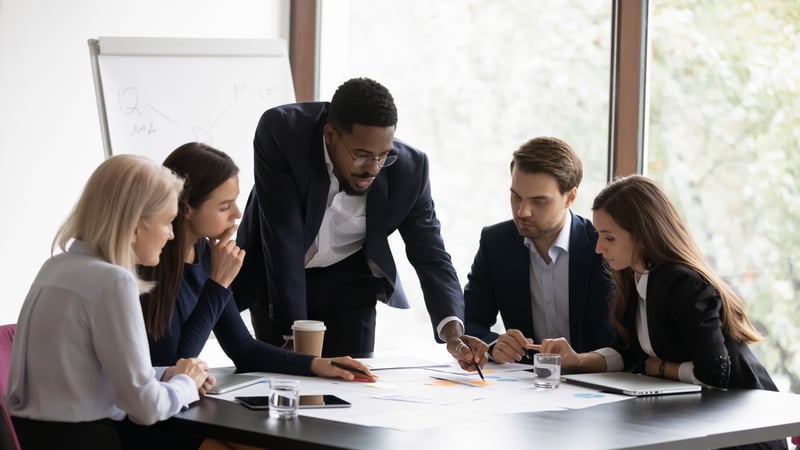 It's no secret that results drive innovation. If you've been looking for ways to take your team's results to the next level, you have an option for moving forward coming up soon.
Beginning in January 2024, K-State Olathe is meeting the needs of professionals in the Greater Kansas City region by presenting Management Strategies: Pathways to Leadership. This six-workshop series has two sessions that focus on getting results.
Whether you've been a manager for years and you're looking for ways to improve your team's results or you're a newly appointed leader at your company and want to make a difference, taking the time to understand what goes into building a successful team is essential. In fact, ongoing training is a vital part of supporting your team regardless of your industry. According to Entrepreneur, "Learning experiences that are immersive and engaging are remembered more clearly and for a longer time." This means that taking advantage of hands-on, interactive learning experiences — such as workshops — is essential to growing both your managerial skills and your team's results.
Evaluating and Improving Team Performance
Feedback is a vital part of growing, learning and developing our skills. We can't work on growth and boosting our performance before we're able to identify areas that may have weaknesses. While many employees may have an idea of where they have room for improvement, it's up to leaders to ensure that each team member understands where they have the space to level up their performance — and how to make that happen.
"Feedback should be an ongoing, two-way conversation," said Lauren Racki, professional development manager at K-State Olathe. "It shouldn't simply be a once-yearly event that happens at evaluation time. Instead, leaders should coach their team continuously for ongoing growth."
While giving feedback and improving performance can be difficult for both leaders and employees, most employees want fair and constructive performance feedback that can give them specific areas in which they can begin improving.
"Evaluating and Improving Team Performance" is a workshop that will address both giving and receiving performance-related feedback for optimum growth. Attendees will also learn about communicating roles and responsibilities, coaching for growth, developing corrective action plans and building and maintaining rapport with their team members.
At the end of the workshop, managers will be able to:
Understand the dynamics of individual and team approaches to appraisals.

Identify strategies for giving constructive feedback.

Understand which skills matter most in creating corrective action plans.

Coach their team members and guide them toward growth.
Developing Strategy to Achieve Results
"A problem well-defined is half-solved" is the starting point for this workshop.  Using tools, such as the Problem-Solving Model, Strategic Planning, RASCI and Lean Thinking, participants will come away with tools to add value to their workplace.
While growing and trying new things can be challenging and difficult for many employees, the right leadership strategies can provide support and confidence for even the most reluctant of team members. During this workshop, you'll learn what it takes to develop strategies for success that work for your team.
This workshop will hone your skills in leading strategically by helping you:
Use complex problem-solving tools to add value.  

Create a high performing organizational culture. 

Establish well communicated outcomes from every company meeting.  

Improve personal performance and company performance two-seconds at a time.  
Continuing Your Leadership Journey
Good leaders understand that it takes time, dedication and determination to develop their leadership abilities so they can guide their team. Great leaders are willing to put in the work to make that happen.
At Management Strategies: Pathways to Leadership, each attendee will walk away with the ability to navigate difficult, complicated conversations with their team and to practice these techniques and skills in a safe environment regardless of where they are on their leadership journey.
Start getting results
If you're ready to take the next steps in your leadership journey and begin building a team you can count on, K-State Olathe is ready to help support you along the way.