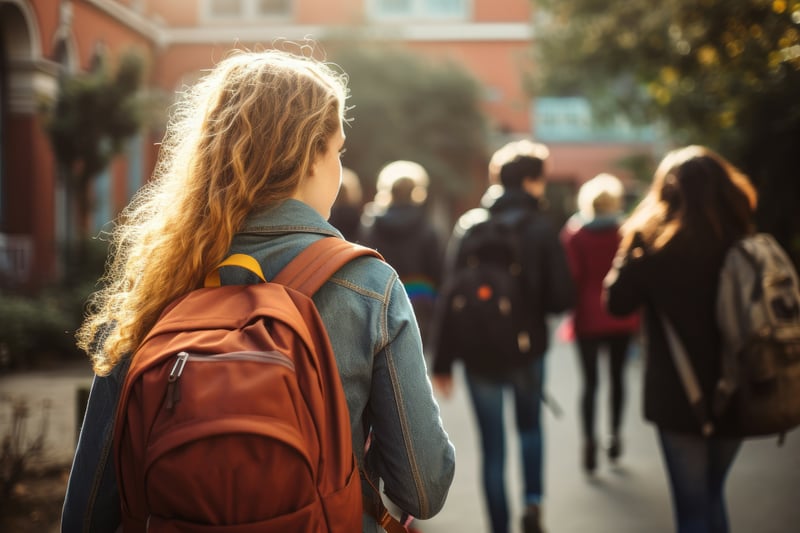 Stressed? You aren't alone.
It is no secret that college can be a challenging experience. In fact, according to one Gallup poll, 66% of college students reported experiencing stress and 51% reported feelings of worry. From finals to financial aid and papers in-between, learning to juggle your responsibilities and take good care of yourself can seem difficult — if not impossible.
Fortunately, K-State Olathe understands that your mental health is important, so we will do everything in our power to encourage you during this time.
"We want our students to know we're here to support them throughout their academic journeys on every level," said Kimberly Voight, director of student services at K-State Olathe. "If a student is dealing with something challenging or facing an obstacle, we want to help them find pathways to success. No student needs to feel alone on our campus. We want to remove barriers that may hold students back and help them to find the resources and the support they need to be successful."
If you're a K-State Olathe student, we have a variety of resources available to help support you, whether you are going through finals, dealing with family stress or trying to find that school-life balance. While everyone may experience periods of stress or anxiety during college, you don't have to deal with this alone.
If you are feeling overwhelmed, anxious or depressed, here are some resources that can help you get started.
Telus Health Student Support
One of the biggest reasons learners don't seek care, guidance or support when they're going through a difficult period is that they are not aware of available resources — or they do not think they can afford it.
K-State has partnered with Telus Health to provide free support for students via chat and phone. Learners can reach out and get help and support 24/7 from masters-level clinicians who each have a minimum of five years of experience.
As a K-State learner, you may utilize Telus Health Student Support as often as you need to. In fact, it is common for students to reach out multiple times throughout their academic journeys. Whether you're feeling overwhelmed about a specific class, having trouble balancing school with your personal life or simply feeling frustrated and anxious, Telus Health Services can help you. There is no problem too big or small to reach out about, so consider taking advantage of this free support option during your time as a student.
One Stop Shop
In addition to Telus Health, K-State Olathe students can take advantage of K-State's One Stop Shop.
Whether you have a concern about your personal finances, you are dealing with relationship challenges or you're just wondering how you're going to make it through the semester, K-State's Student Life One Stop Shop is available 24/7 to help support you on your journey.
Start by visiting Student Life online to read more about our available resources. You can also call the Office of Student Support and Accountability if you need additional guidance and aren't sure which resource is right for you at this time. Simply call and the team will let you know what resources are available to you — and which one will work best for your situation.
Your academic support team
Your student success coach wants to see you succeed. It is our goal that you feel supported and encouraged throughout your student journey and beyond. If you are struggling with time management, anxious about your class schedule or just unsure of how to pay for your classes, don't be afraid to reach out to your student success coach for additional guidance and support.
One of the benefits to choosing K-State Olathe is that our campus prides itself on relationship-building and supporting one another. Your student success coach understands that the decision to pursue your academic goals was a difficult one and will take the steps needed to make sure that you are prepared for success at every turn.
Know someone else who is struggling?
If you are concerned about a classmate, friend or colleague who attends K-State Olathe, we know that reaching out on their behalf can be difficult. That's why we enable you to refer students who may be struggling directly through our website. If you know that a student is feeling down or going through a tough time, it is important to reach out so they, too, can get the support and guidance they need to be successful.
Remember that you are not alone. No matter what challenges you're facing during your time as a college student, you have a team here at K-State Olathe that believes in you.
Connect with our student services team
When you're a student at K-State Olathe, you have a support system right here in Johnson County. Our team wants to help you no matter what you're going through, so don't wait. Reach out now.